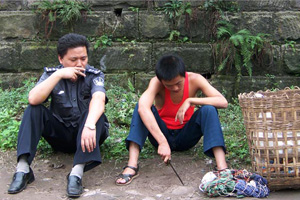 Taking Father Home
is a marvel of low-budget filmmaking: a debut feature film shot on a borrowed video camera for less than $5,000, using friends and non-professionals for actors, and all without the permission of the Chinese government. Director Ying Liang trumps every technical and economic limitation through his highly refined visual sensibility, as elegant as it is imaginative. And yet it's rather limiting to consider the film only in terms of its "limitations"—Ying makes no excuses for its rough-around-the-edges quality, which only adds to its DIY attitude.
Read my full review of

Taking Father Home

online here at Hammer to Nail.
http://www.hammertonail.com/?p=378#more-378