With echoes of Faulkner,
Shotgun Stories
tells the story of a deep-seated feud between two different families — familes that shared the same father and who were raised to despise one another. After the father dies, both families' sons become progressively vengeful and violent. Produced by David Gordon Green (
George Washington
), this is the debut of writer/director Jeff Nichols. He expresses the same poetic sensibility of his producer, yet distinguishes himself with an almost Viscontian sense of epic tragedy.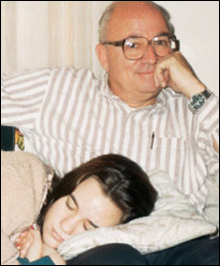 A father and professor of psychology at a local university, Bob Bechtel's secret is that in 1955, he committed one of the earliest school shootings in America while at Swarthmore University: He killed one fellow student before turning himself in. Macky Alston's perceptive direction does its best to break Bechtel's seemingly impenetrable mask, which makes
The Killer Within
all the more compelling and unforgettable.
"In 1994, at age 40, Pastor Richard Gozowsky saw his first movie." This title card provides the genesis for Michael Jacobs' fascinating, infuriating and uncomfortably funny documentary
Audience of One
. Within one year, Gozowsky received a message from God — "I want you to be the Rolls Royce of filmmaking" — and began production on
Gravity: The Shadow of Joseph
, a biblical sci-fi epic described as "
Star Wars
meets
The Ten Commandments
."
Read reviews of Michael Jacobs'

Audience of One

, Jeff Nichols'

Shotgun Stories

, and Macky Alston's

The Killer Within

here at The L Magazine online.
http://thelmagazine.com/5/26/feature/feature2.cfm?ctype=1